Location information
KalyBay Studios & Apartments is located at the beautiful beach of Kalyves Polygyrou between the peninsulas Kassandra and Sithonia in Halkidiki. 
Kalyves offers a beautiful beach with crystal clear waters and golden sand and due to its location you can easily explore the beauties of Halkidiki.
KalyBay Studios & Apartments is only 40 meters away from the beach, 60km from Thessaloniki and 55km from the airport "Macedonia".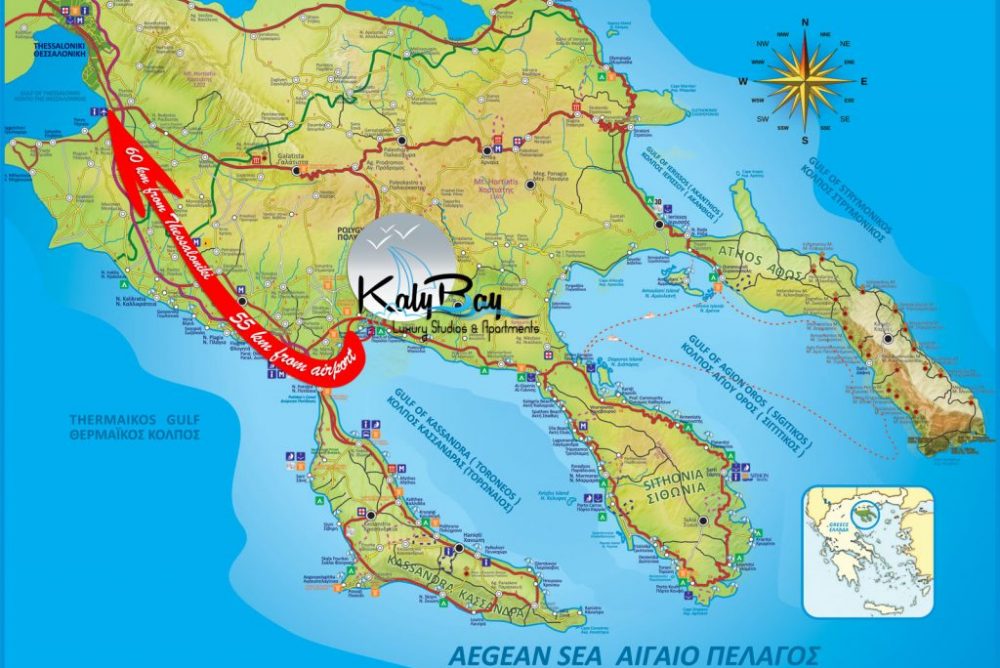 A few meters away you will find restaurants, super markets, bakery, butcher shop, pharmacy.
Some distances for example :
Restaurants     : 0    Km (Sarantis)
                             0,2 Km (La Strada, Mikiverna )
Super Markets : 0,4 Km (Mikiverna )
                              0,6 Km (Happy Day)
Café-Bar            : 0,3 Km (Sweet and Salty)
                              1,6 Km (Saloon)
Bakery                : 0,6 Km (Mihaloudis)
Butcher Shop   : 0,6 Km (Michaloudis Nikos)
Pharmacy         : 0,6 Km (Tzegas )
Patisserie         : 1,5 Km (Gavanas)
Beach Bar       : 1,8 Km (Pasir, Kuda Hura)